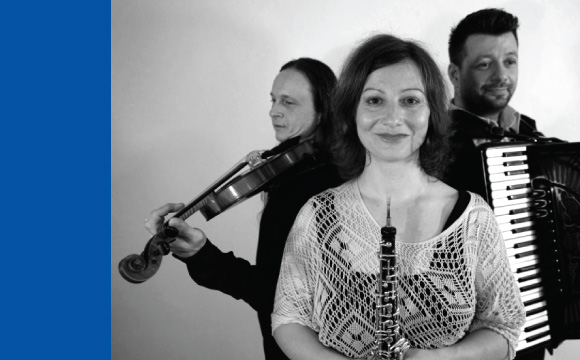 HEMISPHERES 18
The Folk Embassy
Friday 25 October 2019
Doors open 7.30pm
Performance starts 8pm
Tickets
$30 pre-sales BF
$35 on the door

Eva Jurjec, Uros Jezdic and Klemen Bracko, who collectively are known as The Folk Embassy. They seamlessly blend elements of Balkan and more specifically, Slovenian folk repertoire into what is their own highly distinct form of chamber folk improvisation. Their primary instruments, the oboe, violin and accordion and the virtuosity of their playing suggest the chamber character of their music, however, they are so much more. Eva is a superb recorder player as well as oboist; Uros is as flamboyant as he is fleet and nimble on the accordion and Klemen possess an exquisite violin tone.

Based in the Slovenian capital, Ljubljana, Eva, Uros and Klemen are highly trained and seasoned musicians with diverse orchestral, world music and theatre experience. Their repertoire draws on traditional music from Slovenia, Serbia, Hungary and Macedonia, liberally laced with original composition and improvisation.

The Folk Embassy are a must-see trio! Their music is energetic, open-hearted and beautifully crafted and we throughly commend them to you.