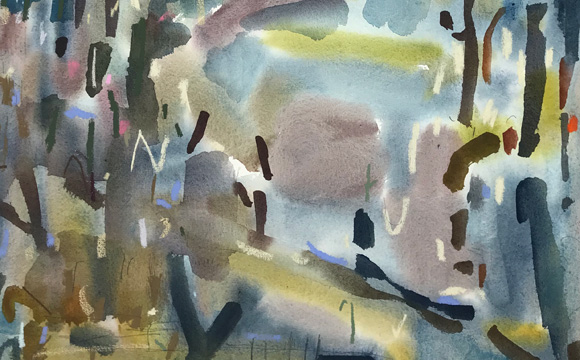 Mooro Katta
Jo Darvall
Opening 26 April 2019, 6.30pm
RSVP
essential
PS Upstairs
Exhibition 19 April - 17 May 2019
Mooro Katta has been a meeting place for Aboriginal people for thousands of years, this area became a park two years after settlement of the Swan River Colony in 1829 and in 1872 175 ha of the reserve became a Public Park called Perth Park but then latter on became Kings Park because of our obsession with the royal family in England, our personal insecurity's, a lack of understanding and ignorance of our own history. The series of works Mooro Katta are an attempt to devlope a new understanding of a culturally significant and powerful area that remains a special place for every one to share and enjoy.

The artist would like to pay her respects to the original inhabitants of this place, the Noongar people, their elders past, present and future, and would like to honour their way of seeing and knowing in this landscape.

–
Originally from Melbourne, Darvall studied at the Victorian College of the Arts, receiving a BA in Fine Art in 1998. She established the Artists for Kids Culture Trust with fellow Roar Artists in the 1990s, Jo worked with Master Printer Kim Westcott and had a studio at the Australian Print Workshop in Melbourne.

Since moving to Perth in 2009 Darvall has continued to grow her art practice by distilling her ideas and uncovering new stories from the West – including those of Western Australian historical figure C.Y. O'Connor and his daughter, Kathleen, yielding two sell-out series, a travelling exhibition inspiring a Novel commissioned by Fremantle Press written by Amanda Curtin Kathleen O'Connor of Paris and a Poetry Book Like Water by the Poets at KSP.

She works from her Pakenham Street Art Space studio in Fremantle, and is an arts educator at Fremantle Arts Centre. In 2015 she was awarded the Mandjar Corporate Art Award and City of Belmont Open Art Award. She received funding from the Department of Culture and the Arts in 2016 and 2017 to stage her exhibitions in, at the Australian High Commission, Singapore and in a private museum in China. Her artwork features in ArtBank, Holmes a Court, WA Water Corporation, Perth Crown Towers, WA Children's Hospital and Credit Suisse art collections in Australia, and private collections in New York, South Africa, Hong Kong, Singapore and China. In 2016 Darvall was invited to undertake a residency in Donnally River WA, and in 2017 a residency at INSTINC in Singapore. Darvall has been invited to the 2019 Bunbury Biennale.

Jo is represented by Artforum Gallery Singapore, Linton and Kay Fine Art Gallery Perth, Studio Gallery Yallingup, PG Print Gallery Melbourne, Rochfort Gallery Sydney.