installation view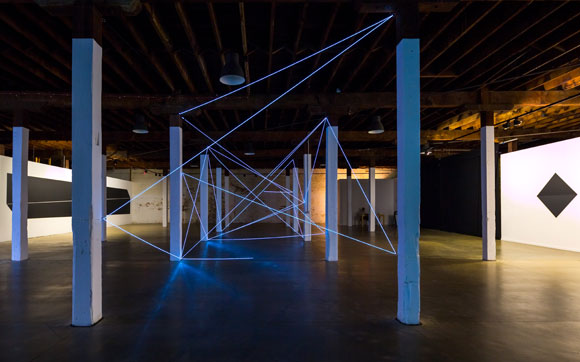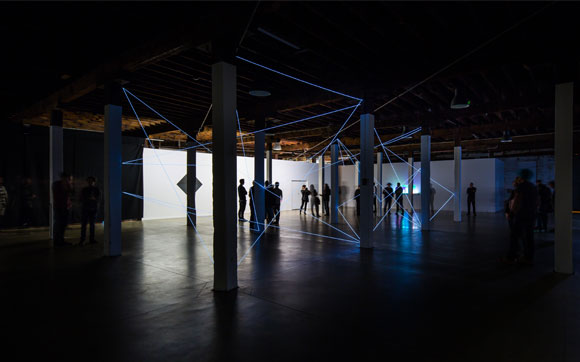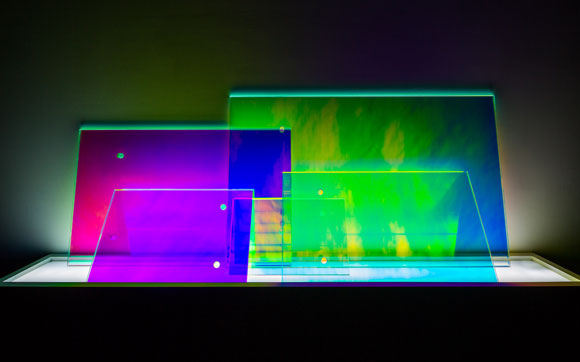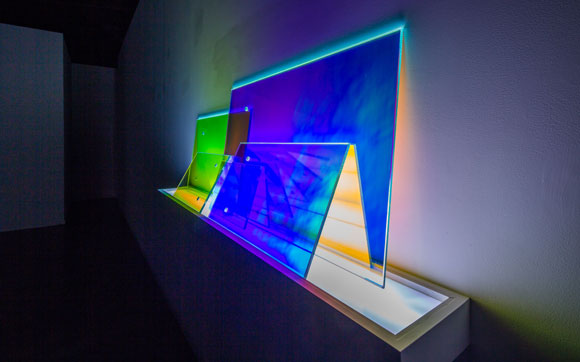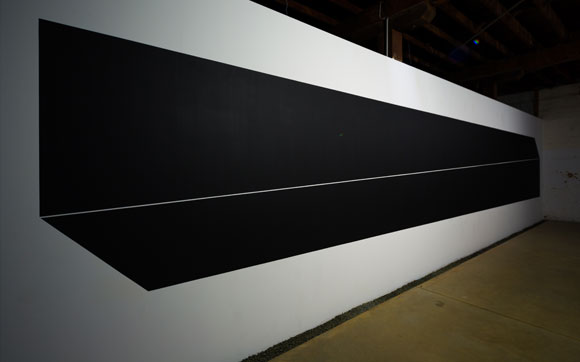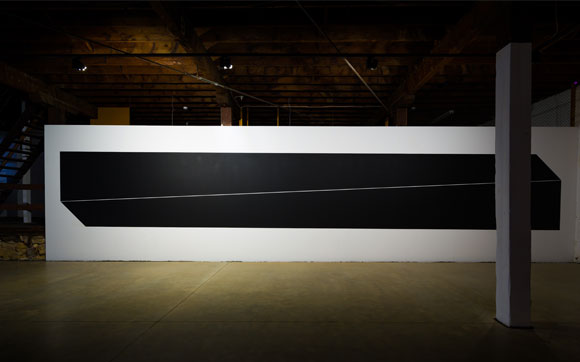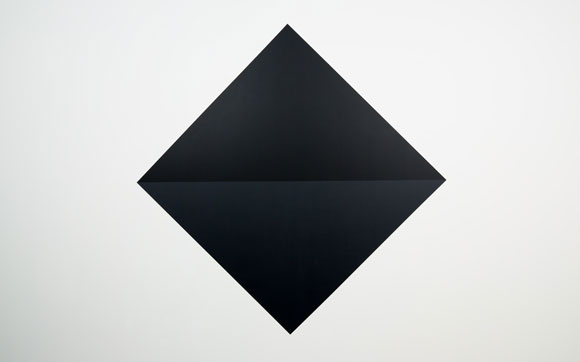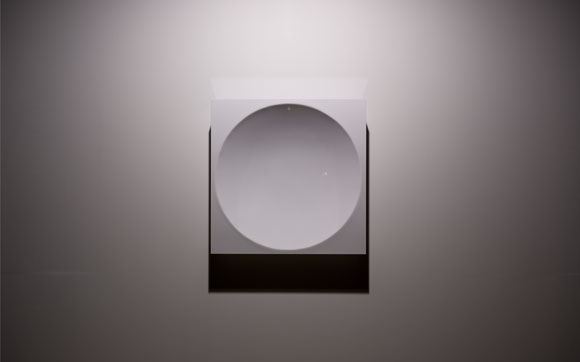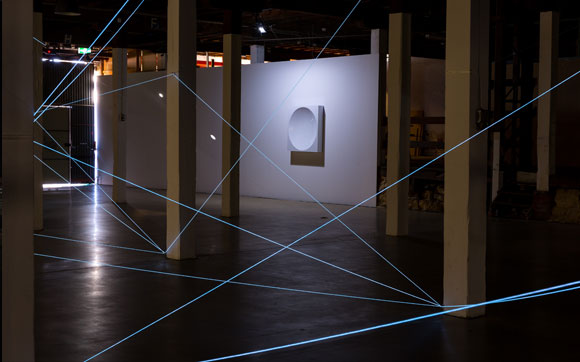 Fata Morgana
Zora Avila, Gert Handschin, Jennifer Kornberger, Matthew Thorley, Yarra Vega
Curated by Tom Mùller


A group exhibition exploring the spatial illusion of geometry through the use of site specific light installation, trompe l'oeil interventions, and two dimensional surface treatment. By defying gravity, subverting representation, and by immersing the viewer in a world of mirages and illusions Fata Morgana pays homage to the natural phenomenon of the same name.

---


GERT HANDSCHIN
Born in 1959, Basel, Switzerland. Lives and works in Basel.

Big Black (2016)
synthetic polymer on MDF, 1250 x 180 cm

Black Square (2016)
synthetic polymer on MDF, 141 x 141 cm

Blue Cube (2015)
MDF, china ink, 17 x 17 x 4 cm

Red Light (2011)
video-loop, 12 x 12 cm

Hovering between two dimensions, Handschin's wall works evoke the illusion of
moving beyond the plane. The inherent tension at play between the parallel level
of perception represents a deliberate strategy to trump the viewer. Through the
act of reduction, the painted images are mirages of the artist's imagination and
appear suspended in time and space.

Initially formally trained as a carpenter, Handschin was admitted to the
Hochschule for Gestaltung und Kunst FHNW in Basel (1984-87). In 1988, he
was awarded a Swiss Federal Arts Scholarship, and in 1989 the Kiefer-Hablitzel
Scholarship. He has been on numerous residencies including the Cairo Studio
funded by the CMS Foundation (1988), the Cité des Arts in Paris (1994-95), and
the Swatch Residency in Shangai (2012). He has held numerous solo exhibitions
and his work has been included in group exhibitions at the Kunsthalle in Basel,
and Kunstraum in Riehen. Since 1995, Handschin has been working as a drawing
teacher in various Basel High Schools.

---


MATTHEW THORLEY
Born in Perth 1978. Lives and works in Idaho, USA.

I inhale so that you can exhale
I pause so that you can pause
I don't exist so that you can appreciate consciousness (2016)
Formed and tinted acrylic, 106 x 106 x 16 cm

Thorley investigates light and its effect on positive and negative space in the built
environment. His work focuses on detail while utilising automated precision and
visual manipulation to shape and produce his works. Inspired by contemporary
architecture's reduction of elements and an emphasis on form, he strives for
a refined aesthetic by elevating materials such as perspex and polycarbonate
through a mechanical process. The work created for this exhibition is an attempt
to engage the viewer to gently soften their focus and respond to a moment of
contemplation. It asks the viewer to consider the work as a static object that
aspires to the act of movement, whilst affording the viewer an appreciation of
their own consciousness within that given space.

Thorley is a West Australian born painter-sculptor working in response to the built
environment. He has exhibited and curated locally at Melody Smith Gallery, Kurb
Gallery and AOHF (Artist Open House Fremantle) as well as nationally last year in
Brisbane when he was shortlisted as a finalist for the Brisbane Art Prize. Thorley
received commendation awards and the Vice Chancellors List at Curtin University
while more recently has become a finalist in the CIAA (Community Invitational Art
Award) and most notably winning the first prize of the City of Melville Art Award,
and his work is now part of their permanent collection. Thorley's work has been
published by Life Art World Wide and Tincanvas (David Bromfield).

---


ZORA AVILA
born in 1979, Houston, USA. Lives and works in Perth.

Parallax (2016)
light thread, transformers, dimensions variable

The term parallax is a displacement, or difference in the apparent position of an
object viewed along two different lines of sight. Such as the visual experience
of this piece, which constantly changes shape and form based on the viewer's
position. The work also titled Parallax is a study of contrast and tonality in a
divergence of fine, clean, light, varying from every perspective, seemingly
reflecting from the dramatic surfaces and structures of a heritage space,
resonating in form as a geometric web. The transfixation of the viewer is such that
in time, the spatial reality becomes distorted resulting in a delayed mirage effect.
The extreme contrast of light and dark distorts, confuses and challenges the
senses as the viewer gets lost in its depth, only to be resolved by ones movement
around the piece.

An award-winning artist, born in the United States and a child of the '80s, Avila is
influenced by that period of popular culture, which is expressed in an authentic
urban influence in her work. Bold expression through light and colour push
the boundaries of restraint and conformity to these rules of geometry. With a
background in multidimensional business across many fields, Avila draws from
all disciplines and experiences to inform her practice. A history in property
development and modern design influences her expression that translates into
movement and form, with balance, contemporary elegance and attention to detail

---


YARRA VEGA
Born in 1980, Mayaguez, Puerto Rico. Lives and works in Brooklyn, New York.

Cinco Cuadrantes (2016)
monolithic glass, dichroic film, LED, synthetic polymer on MDF, 186 x 24 x 80 cm

Striking a balance between historical references and modern media, Vega's oeuvre
is characterised by abstract geometric surface treatments and stylised mythological
collages. In Cinco Cuadrantes, Vega uses the dazzling colour palette created by the
interplay of light with the kaleidoscopic film applied to glass to lure the audience
with a display of changing geometric planes and hues.

Not surprisingly, Vega's work has a strong affinity with mid-century Caribbean and
Latin American abstract traditions. Vega cites the striking, linear abstractions of
Cuban artist Carmen Herrera as a key influence. "I kind of see myself as younger
version of Herrera, using modern materials and processes to create these precise
forms with spiritual undertones," says Vega.

Vega studied art at Escuela de Artes Plasticas de Puerto Rico (2007-09) straight
after school, and moved to New York in 2011. Her work has been included in
notable group exhibitions, Voces y Visiones: Gran Caribe, El Museo del Barrio, New
York, curated by Rocio Aranda-Alvarado (2014), and Nunca Aquí, Roberto Paradise
Gallery, San Juan (2012). She has recently shown a new body of work, Yarra Vega -
Calypso Trends at 571 Projects, NYC (2015), and held her first solo show, Islands of
the Day before at Rawson Projects in Brooklyn (2012).

---


JENNIFER KORNBERGER
Mirage (2016)
Spoken word perfromance

1

At 2pm it is forty-four degrees
and the notion of an outside
and an inside dissolves.

In this cataclysm of heat and light
the details of the landscape glaze
and our bodies become turbulent.

Boneless, we assemble
and re-assemble
as shimmering graphs

what measurement we represent
is unknown, all explanatory text
is blurred. Our flesh was an illusion

we endured with bouts
of stoicism, now we are watery
ladders or ziggurats,
pale indigo cities.

In these flickering minutes
we suffer temporary dismemberment

separate into greater and lesser desires
coalesce as vague promises

uncertain if, in the mingling
of our liquids, we will become
one temple.

2

We are every landscape in potentia,
terrifying in our volcanism
Antarctic in our aloofness
suffocating in our tropical lushness

we are salt lake and peat bog
intemperate in our longing

we are red
and our shadows
are green.

The rapid heating and cooling
of our affections has created
this Fata Morgana.

We crave to be figures
in this landscape
where contrasts combust
into hope, opposites meet
in a glistening truce.

3

The problem of distance
cannot be solved.

We can only gaze

and in the gazing
the horizon might shuffle
forward, the vanishing point
re-appear and a figure
walk towards us

someone, almost familiar,
made of mirrors and lakes
of pure reflection and water's desire
to be upright.

Someone who walks
out of a fertile
and fleeting oasis

carrying water
from a distant future

offering it to us
to drink.

---



Photos: Dan Avila