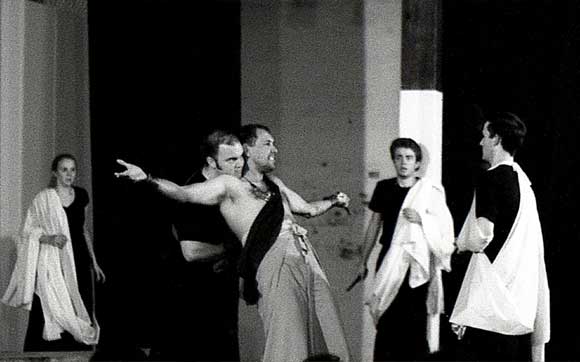 Julius Caesar & McBeth
Upstart Theatre
Upstart Theatre Company proudly presents in association with PSAS Shakespeare's most gritty and political tragedies; Macbeth and Julius Caesar.
A Fremantle Festival Event

Set around the events of the fall of the Roman republic, Julius Caesar is a political thriller to rival The West Wing. Do we side with the people and roar for Caesar's death? Or do we side with Brutus, almost a son to Caesar, who puts aside all friendships to do what he feels is the right thing?

Macbeth is Shakespeare's most supernatural tragedy. Stories of curses, deaths, fires and miscarriages have all been associated with this play. Convinced by the three "Weyard Sisters" that he will become king, Macbeth sets out on a trail of murder and tyranny to not only claim the throne, but also keep it.

Set amongst the haunting jarrah beamed surrounds of PS Art Space (PSAS) an ensemble of Perth's most skilled actors and theatre makers bring these jaw dropping plays to life.

Upstart Theatre Company draws from a wide range of influences including but not limited to Japanese theatre and cinema, pop culture, original Shakespearean practices and physical theatre. As Shakespeare intended, Upstart believe these plays have something for everyone!

Please note that Macbeth contains violence and may not be suitable for younger patrons. Parental/Guardian discretion is advised.