Kinds of Light 1
Variations Without a Theme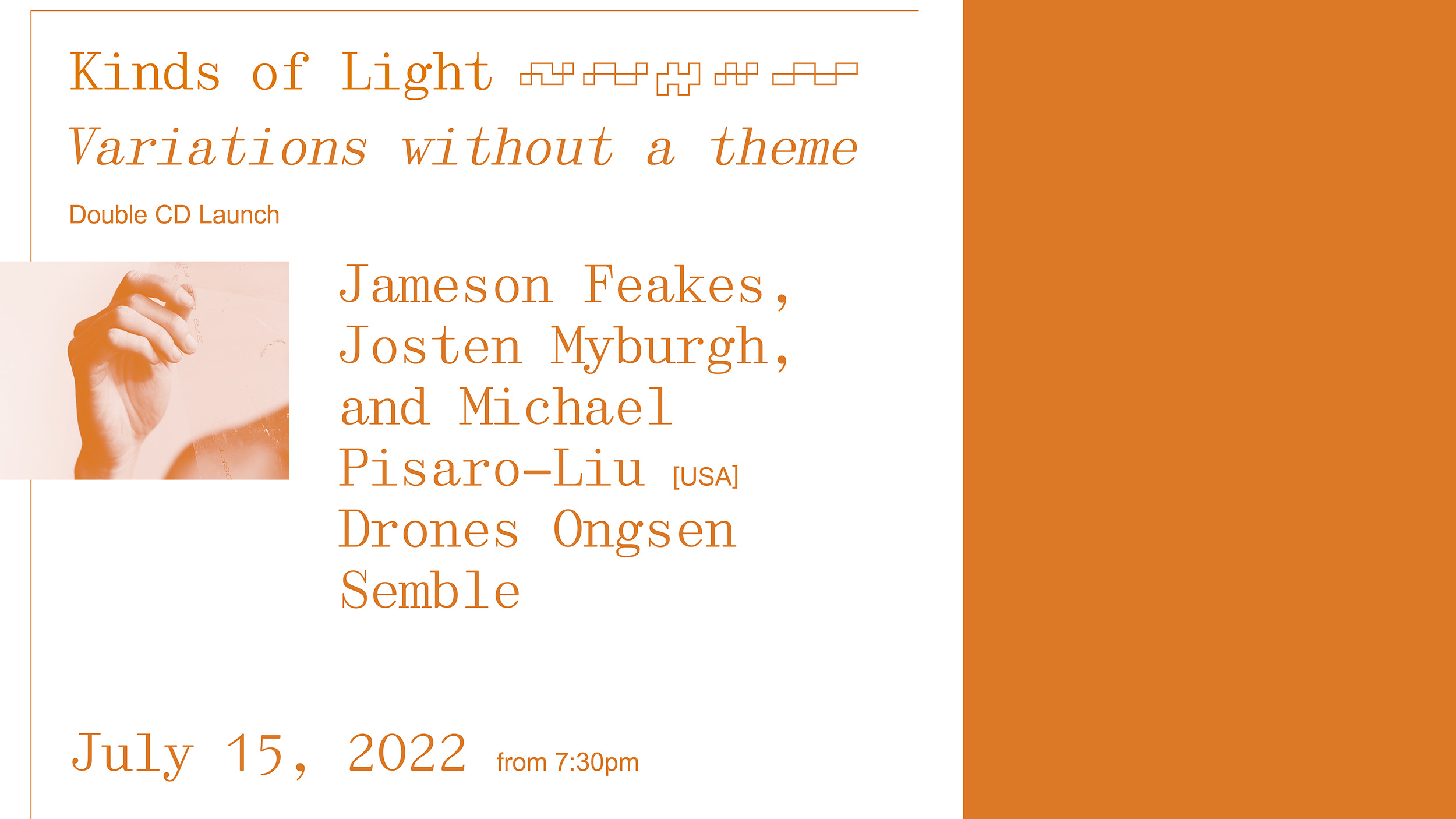 Kinds of Light is a new concert series for creative music at PS. Curated by composer and improvising musician Josten Myburgh, Kinds of Light celebrates ambitious experimentation, careful musicianship, and sounds that are relevant to this place and time. We program across style and genre, excited by the love and rigour that goes into projects that defy categories.
Presented by PS & Tone List and part of the Audible Edge Festival of Sound (
http://ae.tonelist.com.au/
):
The debut of Kinds of Light concert series, this event features the double CD launch of two Western Australian artists on Haan's distinctive Edition Wandelweiser Records. A special winter drink, delicious mulled wine, will also be available to purchase from the bar, and there will be warmth and comfortable seating to enjoy these performances in the PS Arts Space. Doors open at 7pm.
Formed in the 1990s, Wandelweisier initially platformed music that was radically replete with silence, but has since followed the new developments of emerging musicians influenced by its diverse catalogue in a range of ways. The two pieces in this concert are soft, gentle and undulating, dense with detail and strange beauty.
Sage Pbbbt's seven-piece Drones Ongsen Semble will perform two compositions from her Variations Without a Theme (Drones Ongs), imagining a chamber music ensemble whose sounds slowly transform like a living ecosystem. These open-ended compositions draw on the unique sound palettes cultivated by the individual musicians in the ensemble, who are drawn variously from the improvised, electronic and new music scenes.
Josten Myburgh, Jameson Feakes and Michael Pisaro-Liu's new collaborative composition has been developed remotely over the past year. Taking recordings over several months in the same sites in Boorloo/Perth, Feakes & Myburgh produced audio tapestries which document subtle changes over hours of the day and the boundaries between seasons. The recordings were worked into a dense collage by Pisaro-Liu, whose compositional approach was informed by Song Dynasty scroll paintings: their simultaneous enormous scale and fine detail. Like the calligraphy which starkly adorns these scrolls, wistful melodies for saxophone & electric guitar frame the recordings, sitting strangely against the rich electronic backdrop.
TICKETS HERE:
https://www.eventbrite.com.au/e/kinds-of-light-1-variations-without-a-theme-tickets-366756547707
The Audible Edge Festival is supported by the Department of Local Government, Sports and Cultural Industries.
Tone List and PSAS operate on the lands of the Whadjuk people of the Noongar nation. We pay our respects to custodians and elders of this boodja past, present and future.
Accessibility: PSAS is wheelchair accessible with accessible bathrooms.
On our ticketing for 2022: It is important to Tone List that people of all incomes be able to attend our events, so we have set three ticketing options for these events. All payment tiers grant access to the event. Please feel free to pay what you can contribute.