Kinds of Light 2
Blue Waves, Green Waves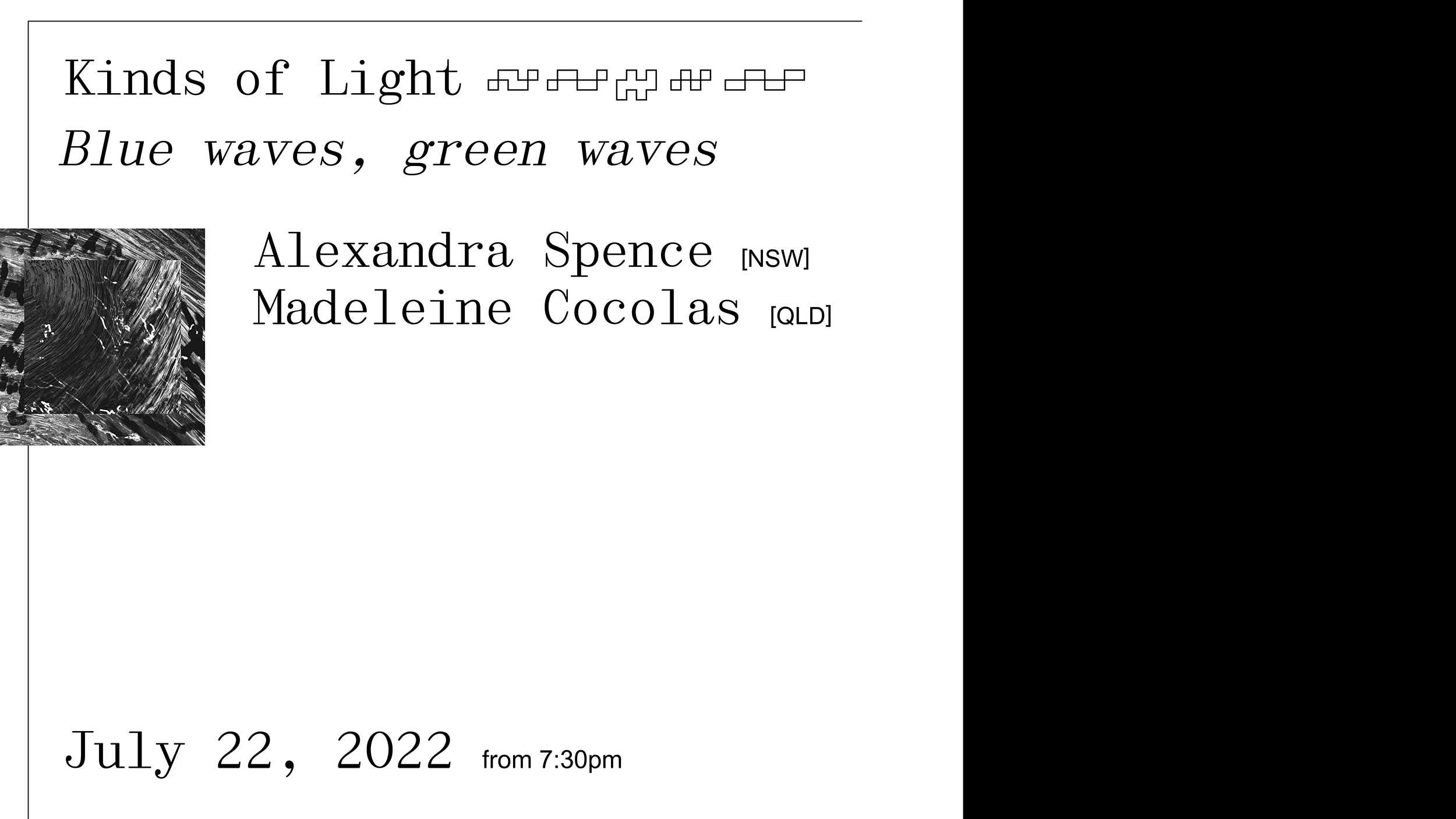 Presented by PS & Tone List and part of the Audible Edge Festival of Sound (
http://ae.tonelist.com.au/
).
This concert celebrates the release of two new albums on acclaimed Brisbane label Room40. Both releases make use of found sounds, carefully sculpting them into compositions that reflect their maker's careful and personal ways of listening. A special winter drink, delicious mulled wine, will also be available to purchase from the bar, and there will be warmth and comfortable seating to enjoy these performances in the PS Arts Space. Doors open at 7pm.
Alexandra Spence brings her audiences into intimate communion with objects and the environment, making subtle and discreet sound collages. Her new album Blue waves, green waves offers a diary of the artist's connection with water, evoking sea spray, whitewater and hissing bubbles.
Madeleine Cocolas' Spectral contrasts with the hissing and delicate strangeness of Spence's work, turning found sound objects into lush and overwhelmingly beautiful washes of sound that celebrate the deep emotional experiences one can have in moments of stillness. It hears the world replete with meaning and rich with possibility.
TICKETS HERE:
https://www.eventbrite.com.au/e/kinds-of-light-2-blue-waves-green-waves-tickets-366764491467

Accessibility: PSAS is wheelchair accessible with accessible bathrooms.
The Audible Edge Festival is supported by the Department of Local Government, Sports and Cultural Industries.
Tone List and PSAS operate on the lands of the Whadjuk people of the Noongar nation. We pay our respects to custodians and elders of this boodja past, present and future.
On our ticketing for 2022: It is important to Tone List that people of all incomes be able to attend our events, so we have set three ticketing options for these events. All payment tiers grant access to the event. Please feel free to pay what you can contribute.