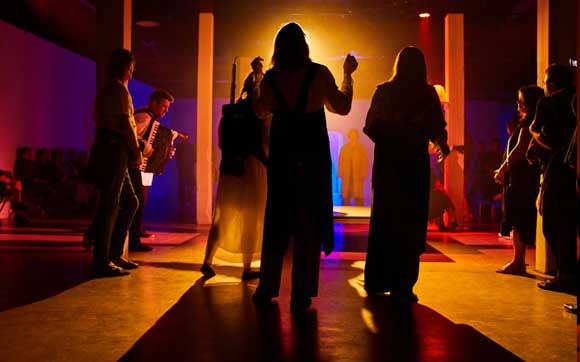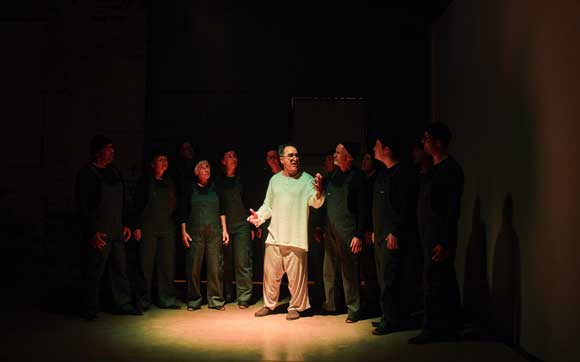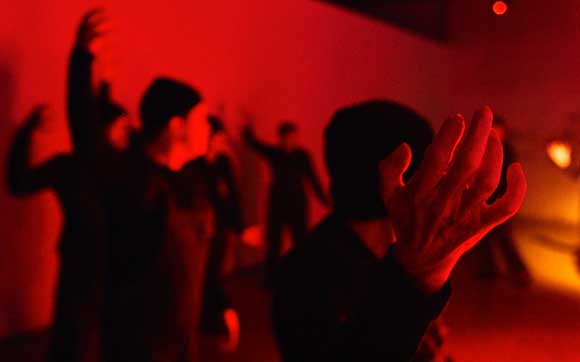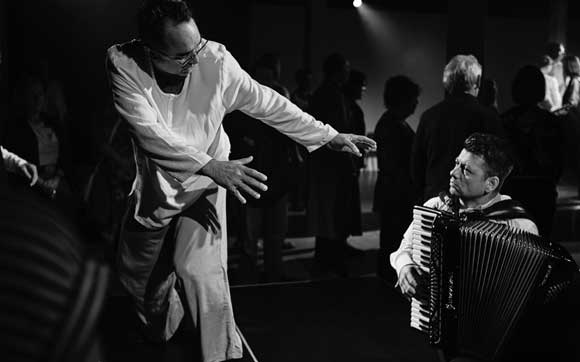 Somnus
Theatre of the Sea
SOMNUS is a radical enquiry into the nature of sleep, immersing audiences in the experiences of four sleepers as they cycle through the fear and ecstasy of REM and non-REM states. By day the pillared warehouse of PS Art Space is a sleep sanctuary, which transforms at night into an otherworld of kinetic still lives, nocturnal languages, poetry, and haunting music-scapes where audiences roam between stages of sleep. What lights up in this panorama is our passionate search for meaning as we encounter our 'nightself'.
Written by Jennifer Kornberger, directed by Horst Kornberger, with music composed by Eva Jurgec, costume design by Carolin Linge and set design by Tom Muller, SOMNUS is a large-scale collaboration between some of Slovenia's best performers and an outstanding ensemble of Australian artists.
Theatre of the Sea
fuses multiple genres to produce installations and immersive events. Elements of site activation, theatre, ritual, live music, and poetry establish temporary sanctuaries where audiences participate in acts of transformation.
Presented by
FREMANTLE BIENNALE
View
video
WRITER/PRODUCER
Jennifer Kornberger
CO-PRODUCER/DIRECTOR
Horst Kornberger
DESIGN
Tom Mùller
COSTUME DESIGN
Carolin Linge
MUSICAL SCORE
Eva Jurgec
PERFORMERS
Ljoba Jence
Eva Jurgec
Klemen Bracko
Uros Jezdic
Miha Bezeljak
Antonio Giri Mazzella
Dale Irivng
Mararo Wangai
Lucy Ridsdale
Phoebe Sullivan
CHOIR MANAGER
Nick Eustance
CHOIR
Bronwyn Elliott
Teya Jerman
David Rosling
Nick Eustance
Susanna Fleck
Peter Ormond
Gosia Slawormiski
Stephen Turley
Peter Cujes
J.P. le Breton
Jenny Hill
Carolin Linge
Jaya Penelope
SPEAKERS
Jaya Penelope
David Rosling
Christian Geyer
Sharon Clifford
Ian Parkes
Susan Wallwork
Joanne Lunay
Gilly Berry
John Bluntschli
DANCERS
Joanna Cooper
Zendra Giraudo
Emma Andrews
PRESENTING PARTNERS
PS Art Space
Marjana Kaker
Anthroposophical Society in Australia
Republic of Slovenia - Embassy Canberra
Republic of Slovenia - Ministry of Culture
Images courtesy of Theatre of the Sea and Fremantle Biennale.Photos: Duncan Wright