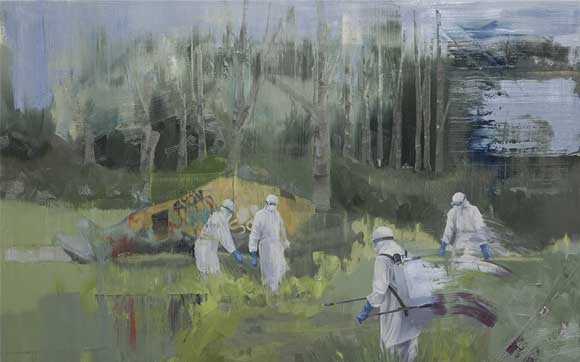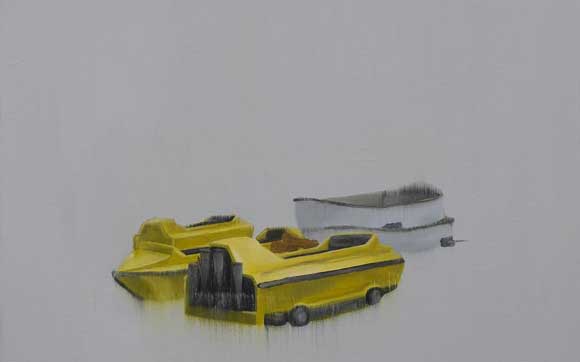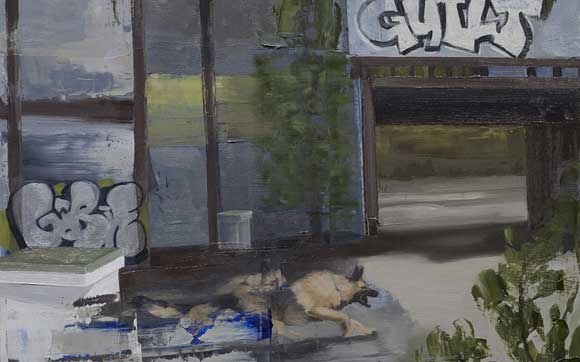 Tyrant Lizard King
Jarrad Martyn
It is considered natural to use free time to develop the mind and to gain a greater understanding of the world. Often when traveling this desire for knowledge is experienced through sightseeing tours, a method of spatial engagement characterised by a sense of routine and distance.
Tyrant Lizard King
explores how ones engagement with the abandoned theme park, Spree Park in Berlin is more lasting, because its consumed function is no longer accessible and therefore ones navigation of the space is no longer dictated by a controlling system of rules and regulations.
By collapsing the distinctions between figuration and expressionism, Martyn creates landscapes that operate between the real and the imagined and the past and the present. Aided by the use of collage to rearrange and reorganise the meaning of imagery from his own personal experiences within the park, the Ebola crisis and tourist brochures, Martyn creates a sequence of events that question how we experience leisure to attain knowledge while encouraging associations to the surreal nature of Spree Park.
Jarrad Martyn
's (b.1991 Aberdeen) practice explores how different moments in history have been framed and how we engage with spaces after they have become abandoned. Through painting and installation Martyn employs the principles of bricolage 'something constructed from a diverse range of things' to bring together imagery and research to create a more conversational meaning of the history being explored. The use of paint which slips in-between figuration and expressionism encourages the audience to look longer to try an deduce what is unfolding and to ultimately consider how complicit they are prepared to be in that framing.
Images courtesy of the artist and Stala Contemporary.