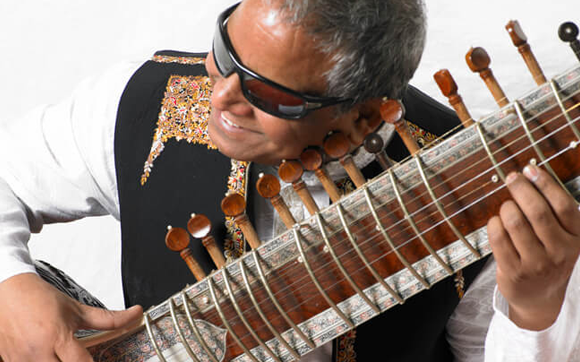 Hemispheres 13
Baluji Shrivastav, Tepistri
BALUJI SHRIVASTAV
Remarkable Indian-born, UK-based blind sitar player and composer, Baluji Shrivastav is back in Western Australia for two very special concerts joined by local players of renown in the guise of Tepestri featuring Lucky Oceans.
Recently awarded an Order of the British Empire (OBE) for his services to music, Baluji is a revered performer who has worked across the idioms of Hindustani classical, jazz fusion and film music. He is an outstanding improviser, undaunted by the boundaries of any one tradition. He is also a tireless ambassador for sight-impaired musicians in Britain, forming the Inner Vision Orchestra, that recently toured in Mumbai and Delhi.
Blind since early childhood from a village in northern India, the noted multi-instrumentalist has faced many challenges, but his mastery of classic Indian instruments isn't one. He plays sitar, surbahar (bass-like sitar), dilruba (upright bowed string instrument and percussion instruments, pakhavaj and tabla.
TEPESTRI
Shrivastav will be joined by some of WA's finest, including Grammy award-winning pedal steel guitarist, Lucky Oceans and members of the Praashekh Quartet, that has been a Fairbridge Festival favourite over the past two years.
The quartet features young sarod maestro (also playing his customised e-sarod), Praashekh Borkar (Pune, India), tabla percussion wiz, Sivakumar Balakrishnan (Singapore), superb young Balinese jazz bassist, Wayan Dana, and widely-experienced Fremantle multi-reedman, Mark Cain. Together as a sextet, they comprise Tepestri.
MANRAN
JIGJAM