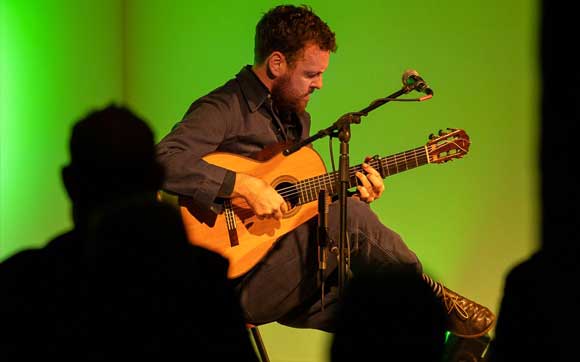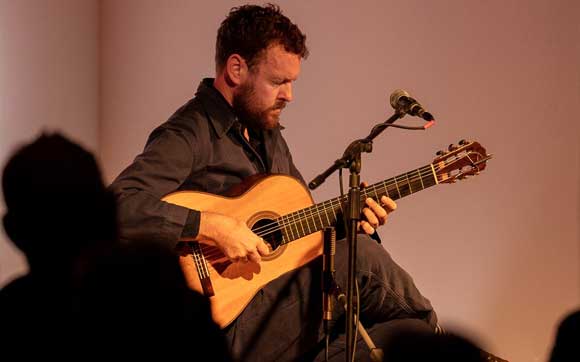 Hemispheres 19
Derek Gripper
Gripper began his musical training at the age of six on the violin. After studying classical music in Cape Town for the following 13 years, he began to look abroad for musical inspiration. This exploration took him to India where he studied South Indian music.

On his return home, Gripper started to focus on the guitar, trying to find a new direction for the instrument. He was attracted to the use of multiple layers in the music of Olivier Messiaen and the African-influenced structures of Steve Reich, as well as guitar arrangements of the music of Johann Sebastian Bach.

After a series of groundbreaking albums that redefined South African music, Gripper began to integrate the music of other composers in his performances. His long-time attraction to the music of Brazilian composer Egberto Gismonti led to a project to transcribe this musician's guitar music recorded together with his own compositions on The Sound of Water (2012).

Derek Gripper's investigation of Malian music has created a new form of classical guitar music, formed out of one of Africa's most fertile musical traditions. His ninth album, One Night on Earth: Music from the Strings of Mali was recorded in a single all-night session and released in late 2012. The album interprets the kora compositions of Malian virtuoso Toumani Diabaté on solo guitar.

Gripper's most recent works includes transcriptions and improvisations focused on the work of African composer/performers such as Madosini of South Africa, Ali Farka Touré, Ballaké Sissoko, Salif Keita and Fanta Sacko from Mali, and Amadu Bansang Jobarteh from the Gambia, as well as his own original compositions based on the music of the Western Cape of South Africa and beyond.