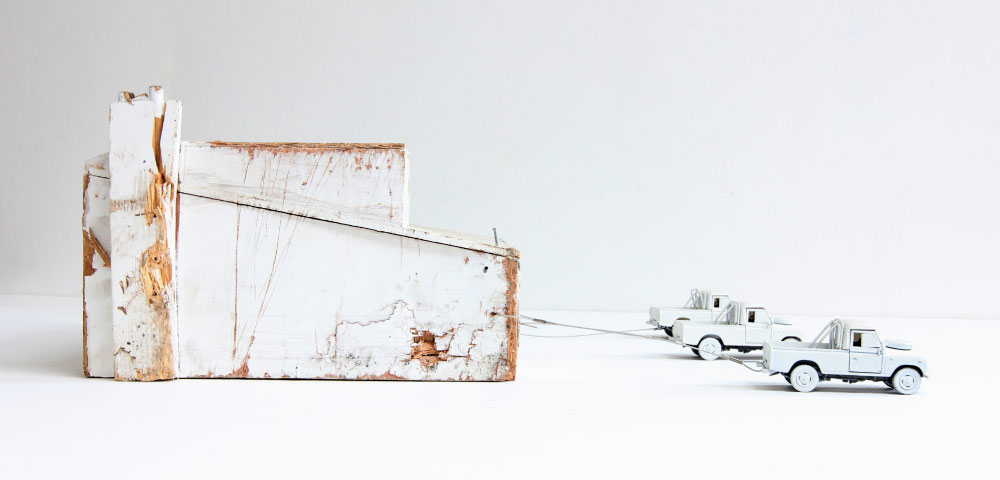 Migratory Projects | House Drag / Maquette
Andrew Sunley Smith & Daniel Egger
MIGRATORY PROJECTS : HOUSE DRAG / MAQUETTE 2018
STAGE 2 OF 3
Andrew Sunley Smith, Daniel Egger
EXHIBITION
20 January - 14 February 2018
This new work crucially functions to bring together and manifest the most ambitious realisation of the projects and practices that have evolved under the interconnected concept of Migratory Projects which began in Western Australia and New South Wales in 2003 (ongoing) and that has since received national and international acclaim (Australia / Scotland / Denmark) since its inception.
Migratory Projects: House Drag / Maquette
, forms a working introduction of a collaborative event that marks the second stage of an ambitious three part project developed between Andrew Sunley Smith and Daniel Egger.
Stage three of the project will form as a large scale sculptural and performative filmic event that will see an actual full size, furnished house slowly dragged and pulled apart via forward velocity to its destruction.
This iteration of the three part project functions as an abstracted full size 1:1 scale framework/house/maquette, exhibited as a working open form, along with a series of process related components, comprising of films, a specially created and restored full size vehicle, plus a series of sculptural objects, tools / equipment, print works, photographs and drawings - the objective of which is to further display, explore and momentarily situate the projects intent and scope, pulling focus toward its logistic, psychological (often silent) poetics and visceral realities.
Primary content is about articulating both broad and intimate aspects of the migration experience, toward achieving art which resonates from direct encounter and direct experience. This is expressed crucially via forms that are adapted, modified and (in this case) deracinated from everyday life to focus on creating dialogues that locate and put visual and physical form to cultural 'sticking points' that currently have no clear visual or formal
language.
Increasing global diaspora and migration is one of the grand narratives and experiences of our contemporary world, and the project aims to powerfully condense and articulate aspects of these realities into a dramatically engaging physically direct, visceral, visually poetic and psychologically symbolic form and showcase event. The project aims to get people to encounter, interface, witness, consider and feel what it may be like to perhaps
lose all that is familiar, either through force or choice. As well as question their own needs and desires for safety, belonging, status and the emotions behind these ideologies. How much do we need? And what happens when we lose it?
The involvement of direct non-representational creative treatments, such as movement, velocity, combustion and using the landscape itself as a dramatic and direct sculptural tool to produce and form the works is vital, as is the sense of the body enveloped within these processes. Displacement, destruction, loss and the turbulence caused by aspects of upheaval and relocation, whether enforced or chosen, provides common content to the project.
Constructions, exsanguinations, accountabilities, physically violent processes and playfully distracting, ponderous games, reveal insidious motives; edges, concerning settlement, placement and notions of being and belonging.

Framing superstructures, devastations, bodily metaphors all working toward uncovering the mechanisms that are creating these new deracinated migrant forms.
We, you and I, have direct experience of them all.
List of works
Image courtesy of Andrew Sunley Smith (2017)