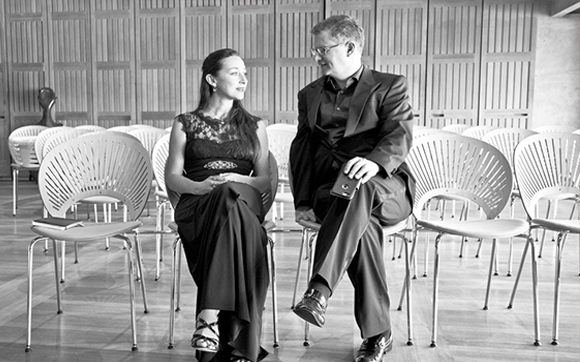 VIVID
A fundraiser for Minderoo Foundation Fire Fund
Monday 17 February 2020
7.30pm-9pm (doors 7pm)
TICKETS
A purposeful evening of beautiful music by Andrew Hagger, Elodie Sablier & friends - all proceeds to the Minderoo Fire Fund
Andrew Hagger and Élodie Sablier make their Perth debuts with this classical crossover concert to raise funds for Minderoo Foundation Fire Fund and support Australians afflicted by the devastating bushfires.
Andrew Hagger
is a classically trained pianist who has achieved ARIA chart success in Australia with his albums Moon Under Water (topping at #7 on the classical charts), Vivid (topping #2 on the classical crossover charts) and Happy Hour (with his band Catsplay, topping #1 on the jazz charts). Fine FM applauded his "harmonic changes as he takes the listener to an imagined perfect place" while the Australian Financial Review describes his music as "ethereal". Andrew has performed concerts at the Sydney Opera House, Melbourne Recital Centre, the iconic Bennett's Lane, JazzLab, Foundry 616 and the Seymour Centre. He has also performed at the Adelaide fringe.
Élodie Sablier is an award winning pianist based in France, regularly performing in Paris and Avignon. Visiting Perth specifically for this concert, Élodie's first album Vertigo achieved critical success as did her follow up album Silent Bridge. Élodie lived in Australia from 2008 to 2014, performing professionally in venues ranging from the Sydney Opera House and Melbourne Recital Centre, to some of the country's most intimate venues. The Sydney Morning Herald described Élodie as having "10 very clever fingers at her disposal which can not only fling notes out with impressive facility but capture a real kaleidoscope of light and shade from the keyboard."
Andrew and Élodie will be joined by some outstanding Perth musicians, including Bourby Webster (viola) and Sacha McCulloch (cello) from Perth Symphony Orchestra and Ella Therese (voice) and Matt Bolt (piano).
Join us for a purposeful evening of beautiful music.
All proceeds go towards the Minderoo Foundation's
Fire Fund
initiative to help rebuild fire-ravaged communities in Australia and sustain them in the future.
Contributions can be made alongside ticket purchases or to make a tax-deductible donation direct to the Fire Fund, please visit
donate.firefund.org
.