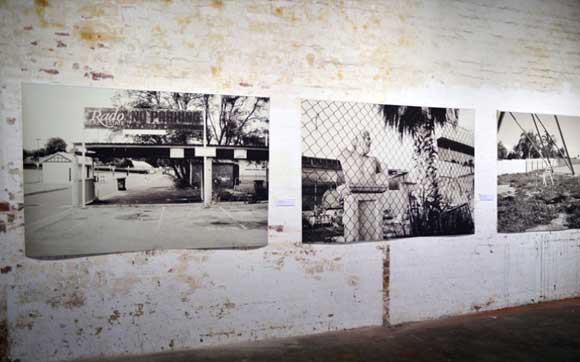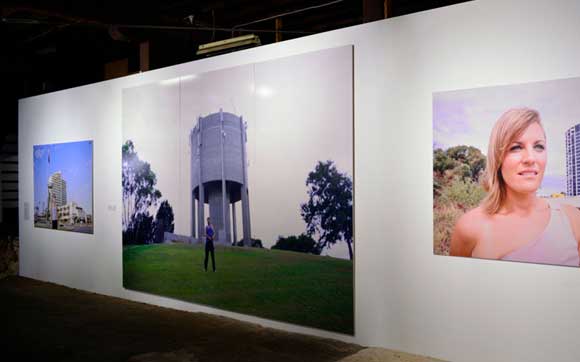 Empire State
Andrew Botfield, Rhiannon Tully, Joel Wynn Rees, Horts Kornberger
Emerging artists Andrew Botfield, Joel Wynn Rees and Rhiannon Tully confront and engage the audience with a series of projections, large format photographic prints
and interactive floor installation dealing with Perth's urban mythology.
Join us for this spatially confronting series of works on the ground floor at PSAS.
Special guest Horst Kornberger will illustrate and guide us through this
body of arresting and insightful works.
Perth city and suburbia has had a long battle between its Modernist development and the need to preserve an Arcadian harmony between civic development and the idyllic, aesthetic and spiritual value of nature. However an instrumentalist approach to social and urban planning around the motor vehicle over the last fifty years in particular has led to some brutal severances between past, present and the natural physical attributes that surround our built environment. Key examples include: the infilling of the Swan River and demolition of the city's port to construct Riverside Drive and the Narrows Bridge in the late 1950s and the demolition of the Old Barracks in 1966 to make way for the construction of the Mitchell Freeway.1
Now Perth is building a 21st century city. Grand modernist icons upon flat sandy plains with no bounds but the sky. The Mirvac 'Peninsula' development. The new Perth Arena. The soon to be built Elizabeth Quay. The Bring the ego! Bring the cash!
'The self is really an empty place where many selves come to mingle and depart'.2 The identity of a great city is in the imagination of all its occupants. The mythology of Perth cannot be planned or designed.
The real monuments are often accidental, private and quietly comical places in Perth's city and suburbia.
1 Witcomb and Gregory. K. 2010. From the Barracks to the Burrup. The National Trust in Western Australia. Published by University of NSW. Sydney Australia.
2 Hassan, Ihab. 1977. Prometheus as Performer: Toward a Posthumanist Culture. Georgia Review 31, pp.830-50.
Empire State Media Release